People celebrate this day in different ways. some people visiting relative's houses and celebrate this poila Boishakh by eating different types of foods and Sweets.
many parts of the country have some special arrangements or Fairs where various types of food, Sweets, ice cream, toys, cosmetics, and beautiful handmade products are sold.
some places have organized Culture rituals like dance, Rabindra sangeet and many more. we celebrate this festival very happy and full of joy and start with a positive thought to make a batter journey throughout the whole year.
we are trying to give you some best Bengali New Year Wishes or Happy New year Quotes in Bengali that you can share with your friends and family to wish Subho Noboborsho.
Bengali new year wishes
নিসি যখন ভোর হবে,
সন্ধ্যাতারা নিভে যাবে,
আসবে একটা যতীন দিন
কষ্ট হতাশা যাও ভুলে
হাসি আনন্দ নিও তুলে
বছরটা হোক অমলিন
তোমার জন্য সকাল দুপুর, তোমার জন্য সন্ধ্যা,
তোমার জন্য সকল গোলাপ, সব রজনীগন্ধা,
তোমার জন্য সব সুর, তোমার জন্য ছন্দ,
নতুন বছর বয়ে আনুক অনাবিল আনন্দ
শুভ নববর্ষ
Bengali new year quotes in english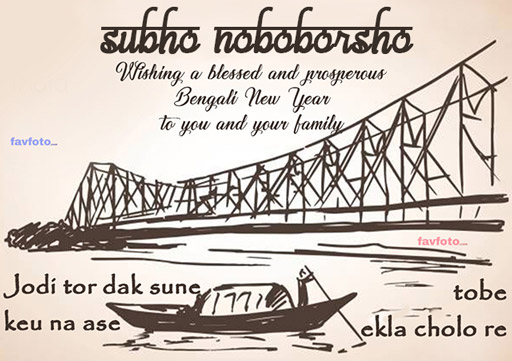 Subho Noboborsho
Wishing a blessed and prosperous
bengali new year
to you and your family
Nights are Dark but Days are Light,
Wish your Life will always be Bright.
So my Dear don't get Fear
because God Gift us a brand new year.
SUBHO NOBOBORSHO
Subho Noboborsho in Bengali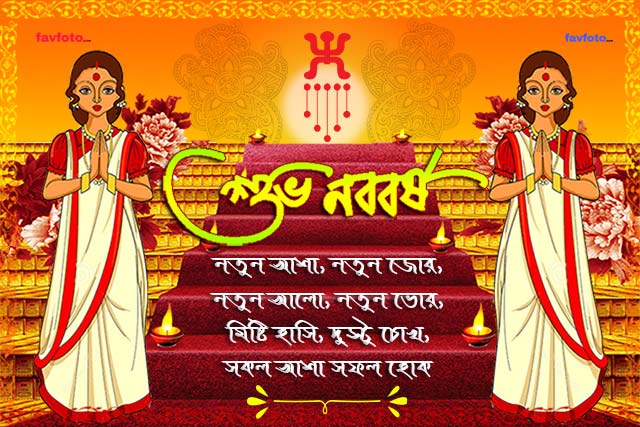 নতুন আসা নতুন জোর
নতুন আলো নতুন ভোর
মিষ্টি হাসি দুষ্ঠু চক
সকল আসা সফল হোক
শুভ নববর্ষ
আবার আসবে বৈশাখ মাস চৈত্রের অবসানে
নববর্ষের নতুন হাওয়া উষ্ণতা দেবে প্রাণে
মনের সকল গ্লানি ভুলে জীবন নতুন ভাবে
গড়বে আবার নতুন স্বপ্ন নববর্ষের টানে
New Year Greetings in Bengali Language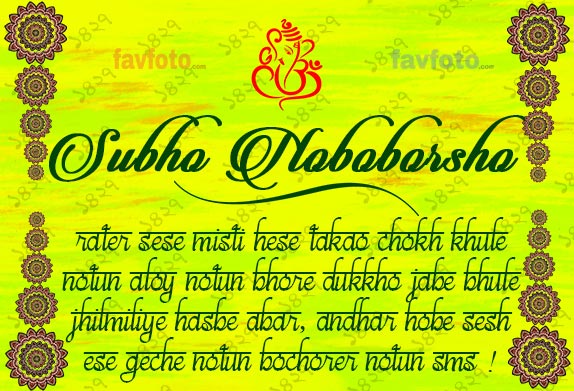 Subho Noboborsho
rater sese misti hese takao chokh khule
notun aloy notun bhore dukkho jabe bhule
Jhilmiliye hasbe abar, andhar hobe sesh
ese geche notun bochorer notun sms!
May you come up as bright as the sun,
as cool as water and as sweet as honey.
Hope this Baishakh fulfil all your desires & wishes.
Happy Poila Baisakh!
Bengali new year wishes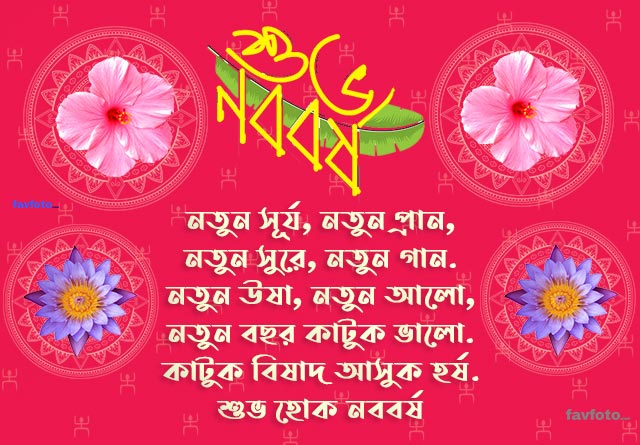 নতুন সূর্য নতুন প্রান
নতুন সুরে, নতুন গান
নতুন উষা, নতুন আলো,
নতুন বছর কাটুক ভালো
কাটুক বিষাদ আসুক হর্ষ
শুভ হোক নববর্ষ
নতুন পোশাক নতুন সাজ
নতুন বছর শুরু আজ
মিষ্টি মন মিষ্টি হাসি
শুভেচ্ছা জানাই রাশি রাশি
শুভ নববর্ষের প্রীতি ও শুভেচ্ছা
Friends you can find us on FACEBOOK & PINTEREST
Please Note: These Images are designed by FAVFOTO.COM and some images are taken from various famous websites. also some of these famous quotes taken from other sites to make a good combination for our lovely audience. so If someone has an issue with these images or quotes and want to remove it, then you can – Contact Us (Feel free to contact).

THANK YOU FOR VISITING FAVFOTO