अगर हम सुधर गए तो उनका क्या होगा
जिनको हमारे पागलपन से प्यार है!
agar ham sudhar gye to unka kya hoga
jinko hamare pagalpan se pyaar hai!
मेरा हर पल आज खूबसूरत है दिल में जो सिर्फ
तेरी ही सूरत है कुछ भी कहे ये दुनिया अब
गर्म नहीं दुनिया से ज्यादा मुझे तेरी जरूरत है!
mera har pal aaj khubsurat hai dil mein jo sirf
teri hi surat hai. kuch bhi kahe ye duniya ab
garm nahin duniya se jyada mujhe teri zaroorat hai!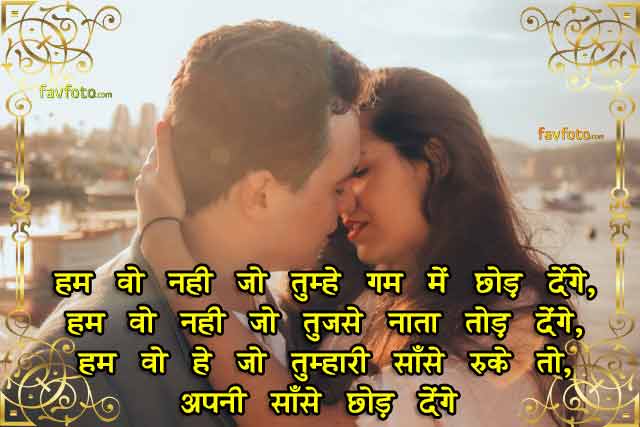 हम वो नही जो तुम्हे गम में छोड़ देंगे,
हम वो नही जो तुजसे नाता तोड़ देंगे,
हम वो हे जो तुम्हारी साँसे रुके तो,
अपनी साँसे छोड़ देंगे ।।
hum wo nahi jo tumhe gam mein chhor denge,
hum wo nahi jo tujhse nata tod denge,
hum wo he jo tumhari saanse ruke to,
apni saanse chhod denge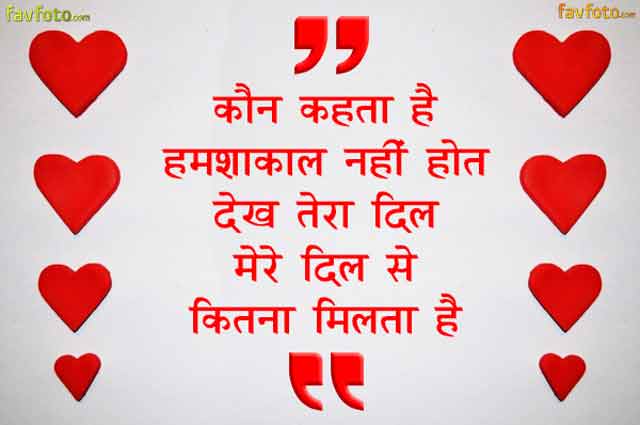 कौन कहता है हम शाकाल नहीं होते,
देख तेरा दिल मेरे दिल से कितना मिलता है।
kaun kehta hai hum shakaal nahin hote,
dekh tera dil mere dil se kitna milta hai.
जैसे जरूरी है दिन के बाद रात होना,
वैसे ही मेरे लिए खुशी का मतलब है।
तेरे साथ होना।
jaise zaroori hai din ke baad raat hona,
waise hi mere lie khushi ka matlab hai.
tere saath hona.
Friends you can find us on FACEBOOK & PINTEREST
Please Note: These Images are designed by FAVFOTO.COM and some images are taken from various famous websites. also some of these famous quotes taken from other sites to make a good combination for our lovely audience. so If someone has an issue with these images or quotes and want to remove it, then you can – Contact Us (Feel free to contact).
THANK YOU FOR VISITING FAVFOTO