Halloween isn't just about dread fear and terror. There's more to it! Halloween is one of the most colorful festivals in the world. This festival is celebrated in many countries on 31st October. This will be observed this year Monday, 31 October 2022
The idea of Halloween can be a little scary and horror, but it's a lot of fun to be a part of the celebration. It's all about surprising and cheats each other. On this day children and teenagers go door to door to collect candy from their neighbors.
In this post, we are presenting the latest horror and scary Halloween wishes, Halloween greetings, scary Halloween images, and Halloween special messages. You can use these Halloween quotes to wish your friends, family, neighbors, and loved ones – have a safe and happy Halloween.
Happy Halloween Messages 2022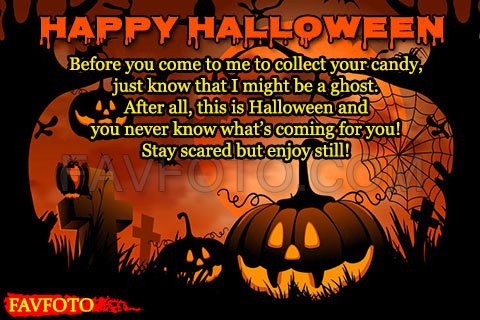 You will never find a holiday better than Halloween.
Wishing you a happy Halloween filled with
sweet candies and eerie monsters!
Tonight, I am wishing you an unforgettable
Halloween adventure filled with
creepy memories and deadly encounters.
Happy Halloween!
Whatever you do and wherever you go tonight
just make sure the dead don't follow you.
The night is full of horror but
you can earn candies if you know how to.
Happy Halloween!
Carve your pumpkin and get yourself ready
for the witch-hunting because tonight is
going to be the scariest Halloween of your life.
Happy Halloween 2022!
Scary Halloween Quotes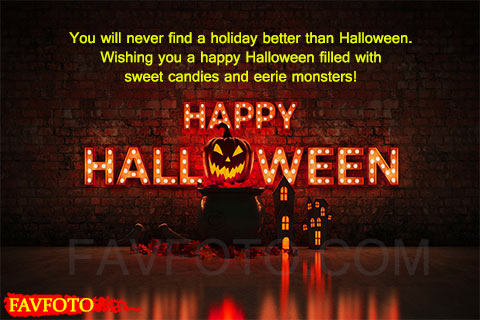 "Halloween wraps fear in innocence,
as though it were a slightly sour sweet.
Let terror, then, be turned into a treat…"
– Nicholas Gordon
"When there's no more room in Hell,
the dead will walk the Earth."
– George A. Romero
Werewolves howl.
Phantoms prowl.
Halloween's upon us now.
– Richelle E. Goodrich
"From ghoulies and ghosties and
long leggety beasties and things
that go bump in the night, Good Lord, deliver us!"
– Scottish Saying
Happy Halloween Wishes 2022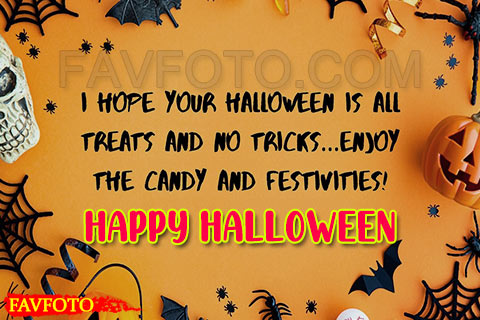 The dead have risen up from their graves.
Watch your steps carefully.
Don't stop and don't look back.
Wishing you a Halloween night full of fright and fear!
Collect your pumpkin and
get yourself ready to explore the night!
Bring candles when you come out of your house.
Because the dead hates the light.
Happy Halloween 2022
Happy Halloween!
Get dressed up in the best costume and enjoy!
Wishing you a Halloween night full of fun and joy.
Make yourself prepared for the celebration as darkness takes over.
The dead are awake once again!
May the spirits, witches, and
goblins grant all your wishes!
Happy Halloween, dear!
Happy Halloween to someone very special.
Hoping your night rocks, just like you!
Halloween Wishes for Him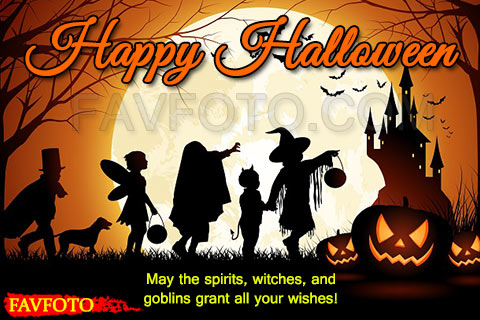 Happy Halloween to you,
baby! I'm sure you will be
the most handsome vampire out there tonight!
Enjoy your time to the fullest!
Happy Halloween,
love! Nobody is too old for a party so
what do you say about a Rick and
Morty couple costume for us?
Let's have fun!
Happy Halloween, sweetheart!
I won't trick you into any mischief tonight,
but only treat you with love okay?
Have a great holiday!
Babe, we look the best when we are together,
so will you be the Joker to my Harley Quinn?
Happy Halloween to you!
I am collecting all your worries,
putting them in a bundle, and
throwing them towards the witches!
Let loose and have fun!
Happy Halloween 2022!
Halloween Wishes for Kids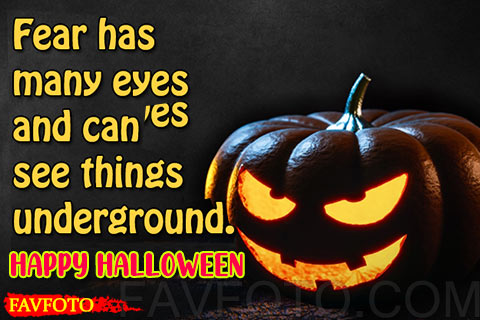 Do not let any spirits or witches, zombies,
or monsters kidnap you tonight.
Have a spooky and adventurous Halloween,
my little devils!
Hope you have a great time at trick or
treating and enjoy all the adventures of the street, stay safe,
and do watch out for yourself.
Halloweens can get really spooky and thrilling!
Happy Halloween to you!
I challenge you to collect more
candies tonight than you did last year!
Let's begin our night haul!
Dress up, pick your bag and
go around the neighborhood for trick or treat.
Hope you have a terrific Halloween night, dear.
Stay safe and have a magical night of fun.
Happy Halloween! Tonight is all about fun,
so let's light up the pumpkins and put on our scariest costume!
Can't wait to go for trick-or-treating!
Halloween Wishes for Friend 2022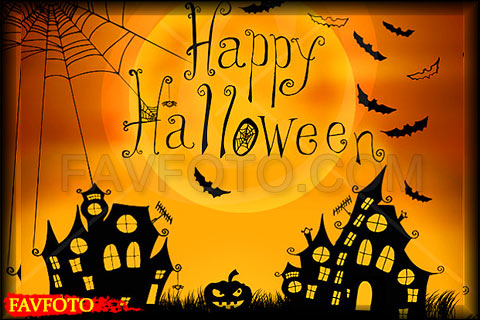 Halloween is here!
Eat to your heart's content,
scream in the streets to scare off the kids,
and dance till you drop! Happy Halloween!
A day full of fun is about to begin!
Happy Halloween to you!
Forget all the worries for the day
and have a day full of sweet treats!
Halloween is the best holiday of the year,
so shake off your laziness!
Happy Halloween to you!
Put on your scariest costume and have a blast!
My friend, Happy Halloween to you!
Wish you to have a relaxing holiday
and an amazing night! Be scary and have fun!
Today's a day to let yourself go and
make the best out of the craziness in the air!
Happy Halloween!
Let's see who wins the 'Best costume award'!
Halloween Wishes for Her
May you have lots of fun and
a very eerie Halloween, love.
Bring your own broom and sprinkle
all your magic powder all over.
I witch you, my dear.
Happy Halloween.
Wishing you joy, adventure, and lots
of thrill- on this night of terror.
Hope all your wishes be granted by the spirits, my love.
Hope you have a magical night with lots
of treats and magical adventures.
I hope you know that you are the cutest
pumpkin in the patch, my beloved.
I love you. Have a happy Halloween.
Hope the dead rise again and
be astonished by your beauty, dear.
Enjoy your night while flossing around
and stealing the spotlight of every party.
Happy Halloween, babe.
As we can never find a better holiday than Halloween,
I wish you put your best spooky attire on and slay the night.
Scare people and have the fun of your life.
Happy Halloween, love.
Halloween Wishes for Family
May all the good spirits take over the bad sprites
and make this year wonderful.
Sending some ghostly greetings on this Halloween!
May the feast begin.
Let the power of Halloween take over and do its magic.
Hope you have a pleasantly frightful night and
succeed in trick or treating. Happy Halloween.
Not everyone you see is human.
Some of them may be zombies.
Only during the dark night of Halloween,
they reveal their true face!
Wishing you a creepy Halloween!
Halloween nights always remind me
of the days when we were a kid.
I wish you all a Halloween
so full of adventures and candies.
I hope your night brings you thrills and
goes fantastic just like your gleam pumpkins.
Hope you set the night on fire with your costume!
Have a safe and great Halloween.
Of all the candies I collect in a Halloween night,
my neighbor's candies are the sweetest.
Wishing my wonderful neighbors, a very Happy Halloween!
Before you come to me to collect your candy,
just know that I might be a ghost.
After all, this is Halloween and
you never know what's coming for you!
Stay scared but enjoy still!
Halloween Wishes for Granddaughter
May you have the time of your life this night and
may your cauldron make sound from the candies tattering.
Have a sweet tricky and treaty night, dear baby.
Do not forget to brush your teeth after eating all the candies tonight.
Rage the ultimate terror in your life, dear.
Happy Halloween my baby girl. I love you.
Baby, I hope you have a magical and
mysterious Halloween with your friends.
Keep calm, trick, or treat and enjoy the night to its fullest.
Sending you all the beautiful Halloween sayings.
Dear granddaughter, I hope you know that
Halloween is the only day you can take candy from strangers.
So, use this night wisely.
Have fun trick and treating.
You are too cute to scare people on a Halloween,
even if you choose to dress up like the scariest monster ever.
Happy Halloween!
Happy Halloween!
Eat as many candies as you want,
just make sure your little belly can handle the overdose.
I'm sure you don't want a candy-induced belly ache once more.
Don't be scared because monsters
don't hurt beautiful princesses like you!
Have a fun-filled Halloween with a lot of chocolates!
Halloween Wishes for Grandson
Happy Halloween, my pumpkin!
Wishing you a day full of nice treats,
but do not eat them at once and
come back home with a stomachache!
Dear grandson, Happy Halloween!
May you have a memorable experience dressing up with
your friends and collecting treats from the neighborhood!
Whatever you do tonight, just don't be yourself.
Scare your friends and have a lot of fun.
I'll be waiting for you with a big box full of candies.
Happy Halloween to my little Spiderman!
You have the best costume among your peers,
so chin up and have a sweet time!
I may be a bit too old to show you a trick,
but I'm not too old to give you a big treat.
Happy Halloween dear!
I can hear the zombies coming for you
so you better put on your vanishing costume fast!
Happy Halloween, my child!
Don't get tricked too much!
I wish you enjoy every moment of this Halloween night.
Just don't go too far out in the dark and
don't let the bats scare you. Happy Halloween!