Subho Mahalaya Wishes 2021, Images, Quotes, Messages
Mahalaya marks the beginning of the Durga Pooja festival. It is observed before 7 days of Durgapuja every year. This is especially a Hindu festival but it is observed across the world. On this day People are observing by eating traditional Bengali dishes, playing Rabindrasangeet, and wearing new clothes. This year the Mahalaya has fallen 6 October 2021 on Wednesday.
History about Mahalaya
As per Mythology Brahma, Vishnu and Maheshwara created Goddess Durga to defeat the demon king Mahishasura. The demon king had got a boon that he could not be destroyed by anyone including the gods and goddesses. The creators of Goddess Durga had given her many weapons to fight the demon king. Basically, Mahalaya signifies the arrival of Goddess Durga on earth. Goddess Durga is considered to be the goddess of ultimate power.
Here are Shubha Mahalaya 2021 Wishes, Quotes & Images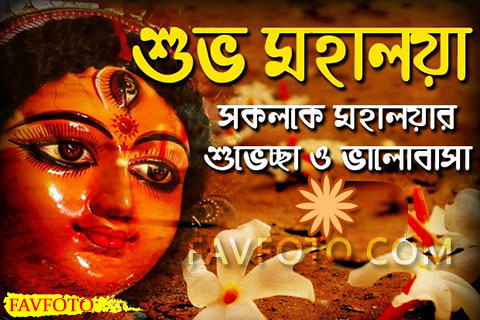 Subho Mahalaya wishes 2021
shanto batas dheu khele jay mather ghase ghase
korunamoyir noborupe sojjit hoye ma je oi ase
dur gogone nil choriye sada megher vela vase
nodir dukul bhoriye diye kashfulera hase.
"শান্ত বাতাস ঢেউ খেলে যায় মাঠের ঘাসে ঘাসে
করুণাময়ীর নবরূপে সজ্জিত মা যে ওই আসে,
দূর গগনে নীল ছড়িয়ে সাদা মেঘের ভেলা ভাসে
নদীর দুলুল ভরিয়ে দিয়ে কাশ ফুলেরা দেখো হাসে"
শুভ মহালয়া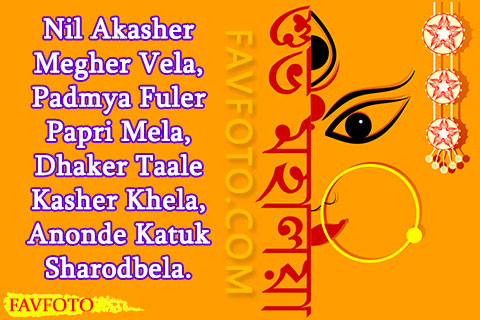 Mahalaya Quotes in Bengali
Shiuli phuler gandho,
Sada megher sari R kaasher bon,
Dhaker bajna janan dichche Maaer agamon.
Subho Mahalaya !
শিউলি ফুলের গন্ধ,
সাদা মেঘের সারি র কাশ-এর বোন,
ঢাকের বাজনা জানান দিচ্ছে মা -এর আগমন.
শুভ মহালয়া !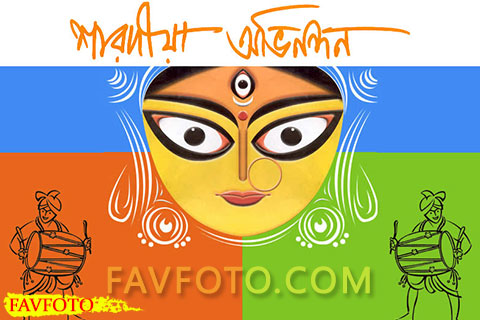 Durga Puja Quotes in Bengali
Nil Akasher Megher Vela,
Padmya Fuler Papri Mela,
Dhaker Taale Kasher Khela,
Anonde Katuk Sharodbela.

Happy Mahalaya.
নীল আকাশের মেঘের ভেলা,
পদ্ম ফুলের পাপড়ি মেলে,
ঢাকের তালে কাশের খেলা,
আনন্দে কাটুক শারদবেলা.
শুভ মহালয়া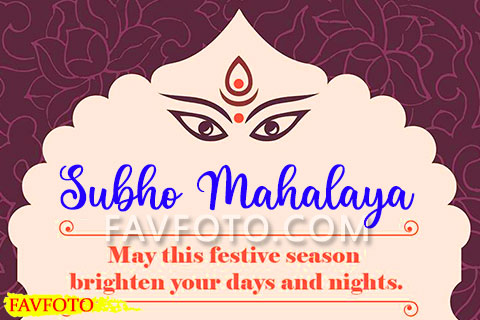 Subho Mahalaya Wishes in Bengali Font
Shiuli Fuler Gandho Niye, Mahalayar Bhore,
Abar Bochor Paar Kore Pujo Elo Ghure,
Hok Na Aakash Meghe Dhaka,Poruk Bristi Jhiri Jhiri,
Kasher Bon Dichhe Janan, Asche Maa Shiggiri.

SUBHO MAHALAYA !
শিউলি ফুলের গন্ধ নিয়ে,মহালয়ার ভোরে,
আবার বছর পার করে পুজো এলো ঘুরে,
হোক না আকাশ মেঘে ঢাকা, পড়ুক বৃষ্টি ঝিরি ঝিরি,
কাশের বোন দিচ্ছে জানান, আসছে মা শিগগিরই.

শুভ মহালয়া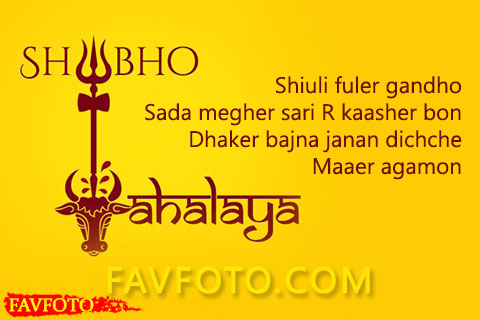 Subho Mahalaya SMS in Bengali
Devir agomone,anonder alingane,
Sharad er gandhe,pujor uchase jibon hoe
uthuk mongolmoy.Mahalayar ei sharad probhate janai
sharad subhecha!
Shubho mahalaya.
দেবীর আগমনে,আনন্দের আলিঙ্গনে,
শারদ এর গন্ধে,পুজোর উচ্ছাসে
জীবন হয়ে উঠুক মঙ্গলময়.
মহালয়ার এই শারদ প্রভাতে জানাই
সারাদ শুভেচ্ছা!
শুভ মহালয়া.
Mahalaya Caption Bengali
Siuli ar kaser mala,
nil akashe meghr vela.
Himer poros ange lage,
sobar prane pulak jage.
Agomonir khobor peye,
mone pakhi uthlo geye,
Subho Mahalaya.

শিউলি আর কাসের মালা,
নীল আকাশে মেঘের ভেলা.
হিমের পরশ অঙ্গে লাগে,
সবার প্রানে পুলক জাগে.
আগমনীর খবর পেয়ে,
মনে পাখি উঠলো গেয়ে,
শুভ মহালয়া.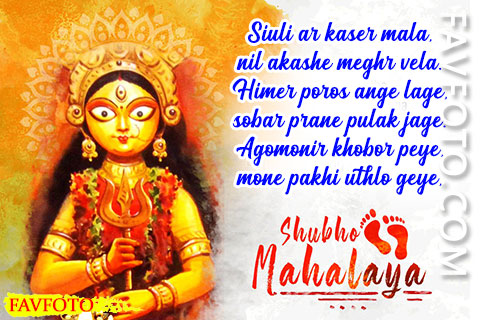 Mahalaya Quotes in Bengali
bajlo pujor choya dur gogone
lotay patay ar apon mone
shoroter nil ar mou machir gunjone
prithibi sejeche pujor agomone
subho Mahalya
"বাজলো পুজোর ছোয়া দূর গগনে
লতায় পাতায় আর আপন মনে
শরতের নীল আর মৌমাছির গুঞ্জনে
পৃথিবী সেজেছে পুজোর আগমনে"
শুভ মহালয়া
Subho Mahalaya Images for Whatsapp
Dhaker Awaj Dhang Kur Kur
Sona Jay Oi Agomoni Sur
Mayer Ebar Asar Pala
Nil Dighite Bhaslo Bhela |
Ajke Sabar Matuk Mon
Janai Agam Abhinandan…SUVO MAHALAYA. !!
ঢাকের আওয়াজ ঢ্যাং কুরা কুর
শোনা যায় ওই আগমনী সুর
মায়ের এবার আসার পালা
নীল দীঘিতে ভাসলো ভেলা |
আজকে সবার মাতুক মন
জানাই আগাম অভিনন্দন…শুভ মহালয়া. !!