Thanksgiving Wishes for Best Friends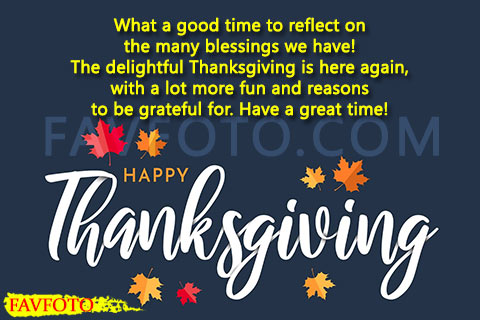 Happy Thanksgiving,
dear! On this meaningful day,
I would like to express my utter gratitude
and love to you for being a good companion
and even better human being!
Happy Thanksgiving Day.
You are so healthy and puffy that
sometimes I wonder
If you were a turkey!
Have a great day!
On this Thanksgiving Day,
I would like to inform you that
I haven't still got an invitation card
for the Thanksgiving party at your house.
Do send me ASAP!
Buddy, you are the most generous
and passionate person I know,
and I pray that all your wishes come true one day.
Happy Thanksgiving to you!
I have failed to tell you guys how much
I am grateful for having you on so many occasions.
But this time, I want to thank you all
for always being there for me.
Happy Thanksgiving!
Sending my heartfelt Thanksgiving wishes
to the person who always gives me unconditional love.
Happy Thanksgiving dear!
On this Thanksgiving, all I wish is to become
the reason for your happiness and laughter
I can't wait to enjoy the feast of the day with you.
Happy Thanksgiving!
November is the time to be thankful,
a time to remember and to embrace
those who enrich our lives.
I'm thankful for a lot of things,
but I'm most thankful for You!
I wish you are having a fun time
with your families and relatives.
Enjoy your time but don't freak out
your relatives with your awful eating habit!
I wish you all the delicious foods on this Thanksgiving Day.
Hopefully, this time you'll make yourself
a part of the national obesity statistics.
Nobility is served on Thanksgiving's plate
since noble is that man who expresses his gratitude.
May you have a great Thanksgiving Day!